This is the guide you need if you want to find out what are the Different Types of Blackjack Games. Blackjack has to be the most popular game for both offline and online casinos and the most popular card game play around the world. The skill required and the winnings that can be made, make blackjack and online blackjack extremely profitable.
To win a game of blackjack the player must beat the dealer's hand. This is done by getting a total of 21 (blackjack) or less. Or by beating the dealer's total without going over 21. How the game works is the dealer will deal two cards to all playing players. If the 2 cards dealt equal 22 or more, then the player has what is known as a bust, which means that the player loses the round and the game is over. If not, the dealer plays one more card, if the total then equals 21 or less and is higher than the dealer's hand you win.
From its popularity different types of blackjack games are available to play. each with their own minor differences. Whether you're visiting a land based or online casino you will have come across the different varieties on offer. This guide will show you what they are and how to play them.
The different types of blackjack games (online and offline) include:
---
Different Types of Blackjack

There are many different types of blackjack games to play online and at land-based casinos. check out our guide below which will show you what they are, how they are played and where to play them (if available at an online casino).
1. Classic Blackjack
The original game types of blackjack games also known as traditional blackjack, this is the most common, widely played and popular version of the game. Tise variety of blackjack can be played with between 1 and 4 decks.
Rules and how to play
The rules of the game are quite simple, especially once you understand the card values and terminology. As mentioned above the main aim if the game is create a hand which is equal or as as close to 21 then the dealers hand.
The game starts by the dealer dealing all the players 2 cards each, with the cards dealt face up, except for the dealer is has one card faced up and the other face down.
Depending on the value of the cards and the value of the card the dealer has, the player can either decide to hit, stand or go bust. alternatively there are other moves a player can make – more on this below. The player with the highest hand closest to 21 wins.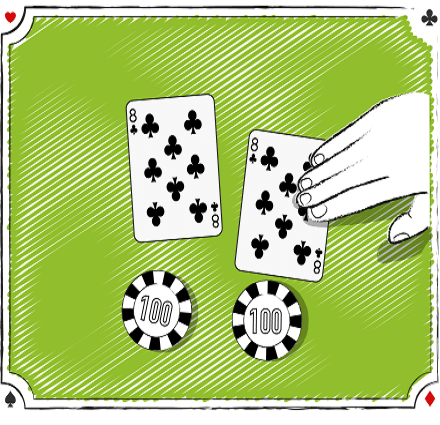 Card Values
2 through 9 are face value
10, Jack, Queen or King are worth 10
Aces are worth 1 or 11 (player's choice)
Terminology and options available to the player
It's is very important you understand the terms below – which are also the options a player can use to try to win. It will also help you understand the other types of blackjack explained in this guide.
Hit – Draw additional cards to your hand
Stand – Take no more cards and end your hand
Bust – total 21 or over and lose the game
Hard Hand – A hand with either no ace or an ace valued at 1.
Soft Hand – A hand with an ace valued at 11.
Double Down – Allows the player to double their bet after seeing the first 2 cards.
Split – Allows the player to make 2 hands when dealt a pair (two of the same cards). Each hand is played normally and give the player 2 chances to beta the dealer.
Insurance –
Push – When the dealer and player's hands are of equal value of at least 17, the hand ends in a draw.
Blackjack Tip – Learn the differences and how to play hard and soft hands.

It's important to know the difference between a soft and hard hand. a hard hand basically means a hand which doesn't not contain an ace. For example a 10 and 4 equals a hard 14. A hard hand is considered risky as the player can go bust in one hit. 

A soft hand is the opposite of a hard hand, its where a hand has an ace card. For example 3 and an ace equals soft 14. Unlike a hard hand a soft hand can't go bust in one hit as the ace is valued at both 11 and 1. What this means is that if you were dealt a 6 and an ace (equals 16), you decide to hit and receive a king (value at 10), the ace card would now value 1 making your new total 17.
Places to play classic blackjack
We have listed the best places to play classic blackjack for UK players. these are the safest and most popular sites to play poker at.
---
2. Live Blackjack
This is an online variation of the game found at many online casinos. Usual online blackjack is played against the casinos computer. Live blackjack which can be found on the live casino section of an online site, gives you the real blackjack experience from the comfort of your home. It's basically live streaming of your game in real time. With real life dealers and real human interaction.
Live blackjack depending on where you play follows the same rules as classic blackjack.
Where to play Live Blackjack Online
---
3. Progressive Blackjack
Progressive Blackjack is played using the same rules as classic blackjack. The main difference is that players have a chance of winning a larger jackpot prize. As all players place an additional bet.
The main rules include. If your hand is closer to 21 then the dealers hand then payout on this win is 2:1. For example if you bet $10, you will be paid your bet plus the equal amount. Giving you $20 in total. If you have a blackjack where your first 2 cards equal 21 then you win is paid out at 3:2.
if your hand is equal to the dealers then the game ends in a draw and your full bet is returned.
With regards to the dealer rules, the dealer must draw cards until their hand reaches 17 or higher.
---
4. Spanish 21 Blackjack
Spanish 21 is a relatively new type of blackjack and even newer when it comes to online. It is played on a different table layout with between 6-8 decks used excluding the 10s in all suits.
Spanish 21 vs Blackjack
There are quite a few differences between Spanish 21 and normal classic blackjack, the main differences come with the odds and winnings. Certain hand combinations awards players a higher/better payout More on this below
Another main difference is that the players 21 will always beat the dealers 21.
The Rules
The main rules are the same as normal blackjack. The main difference in rules comes with getting a blackjack (21 total).  Depending on how you get 21, a bonus is awarded. Below highlights the bonus that can be received when reaching 21.
| | |
| --- | --- |
| Sequence | Payout |
| 5 Cards any suit | 3:2 |
| 6 Cards any suit | 2:1 |
| 7 Cards any suit | 3:1 |
| 6,7,8 from mixed suits | 3:2 |
| 6,7,8 from the same suit | 2:1 |
| 6,7,8 from only Spades | 3:1 |
| 7,7,7 from mixed suits | 3:2 |
| 7,7,7 from the same suit | 2:1 |
| 7,7,7 from only Spades | 3:1 |
Players can split hands even on aces. The bonus 21 is also warded on a split hand. When it comes to the "surrender" bet (when the bet can be forfeited) can be made only if the dealer doesn't land 21.
---
5. Blackjack Double Attack
This type of blackjack is a variation of Spanish 21.  This game is played with 8 Spanish decks, where all the 10's are removed.  The aim of this game is the same as normal blackjack where you need to beta the dealer without going over 21 in total of your hand.
Side Bet
This game allows players the option of a side bet, where you can place a bet that the dealer with bust when 3 cards are dealt. This bet must be placed with your initial bet or before the next round. This side bet stand separate from  the main game and is unaffected by splits, double downs and insurances. if you chose to go bust your side bet will lose. Payout depending on the dealers busted hand and from casino to casino.
---
6. European Blackjack
Apart from classic blackjack, European blackjack is extremely popular. European blackjack uses 6 decks. The dealer must land a soft 17 (a hand containing an ace that totals either seven or 17). If you are dealt a total of 21(blackjack) you are paid winnings at odds 3:2.
Doubling down and splitting is also allowed – similar to classic blackjack.
The main different between classic blackjack and European blackjack and the reason why it's so popular is that there is the option to "surrender". This allows players to "forfeit" the game and receive half the bet back – once 2 cards are dealt. However, a "surrender" is not possible if the dealer shows an ace.
---
7. Atlantic City Blackjack
Atlantic city blackjack uses 8 card decks. Like European blackjack should you be dealt a blackjack (total 21) you will be paid at 3:2 odds. The main rules follow that of classic blackjack.
Atlantic City betting options
This is what make Atlantic city a different types of blackjack games different. The minim bet in the type of blackjack is $1. Players can double down on any 2-card hand.
Players can split providing they land a pair or 2 cards of equal value, which will give you 2 hands providing you place an additional wager.
Other splitting rules include
Players can only split once
Players who split on a pair of aces will receive only one additional card for each split hand (meaning a hand of 2 cards is all you'll get to try and beat the dealer)
If you are dealt a blackjack and the dealer is dealt an ace, even money is an insurance bet that can be made. If you choose to collect the winnings this will be paid out at 1:1.
---
8. Blackjack Switch
Blackjack switch is an interesting one. This game is played with 2 bets made by the player, meaning that the player has two hands to play with. Furthermore, the player is able to switch cards between hands – which makes this an extremely popular blackjack game.
Rules
Six or eight decks are used and as mentioned the player needs to make two equals bets. The cards a dealt face up, the dealer when then check if they old a blackjack (21) – if those all player hands lose, unless the player also has a blackjack.
As mentioned the player is able to switch cards meaning if the player has 7 and 10 (totaling 17) in one hand and 4 and 10 (totaling 14) in the other, then the player can switch the 10 and the 4. Making one hand totaling 20 and the other 11.
Interestingly a player can double on any 2 cards and double after a split. The player can also re-split to have a maximum of four hands.
Special Rules
If the dealer hits a soft 17 (meaning a hand totaling 17 with an ace), the dealer must draw an additional card. Blackjack on this games pays at 1:1 instead of 3:2. This game is blacked with six card decks.
---
9. Vegas Strip Blackjack
Vegas Strip Blackjack is a popular land-based version of blackjack, and as the name suggest it's extremely popular in Vegas casinos. So, if you ever go to Vegas you'll see this game everywhere.
Like other types of blackjack Vegas Strip is played with 4 standard decks of cards and pays out at 3:2. Players can double down and split after doubling down. Players can split to up to four hands. Bets can range from 1 to 200, with insurance payouts at 2:1. This is a hold card game which means the dealer is allowed to peek before you when an ace or 10 is dealt.
---
10. Pontoon Blackjack
Pontoon is a different types of blackjack games is extremely popular in the UK and Australia, therefore there are 2 different types with very different rules. One is called British Pontoon (which is closer to classic blackjack) and the other Australian Pontoon (which is closer to Spanish 21).
Rules
2 hands totaling 21 is the strongest hand but can be beaten by the dealers 21 hand. The main thing to be aware of is that hands must equal 15 or higher for the player to win. If your hand is less then 14 the dealer will automatically deal you a third.
When the hand is dealt and you get 15 or over you can decide to stick, meaning a card Is not dealt and the dealer moves to the next player. If your hand is higher then the dealer your hand wins.
A five card pontoon can happen. This is when your cards total less then 21. When this happens, you can "twist", which will make the dealer deal you another card face up. This will happen 2 more times until you have 5 cards. If after 5 cards you are still under 21 this is a five-card pontoon.
With pontoon you are able to buy cards. If your hand is less then 21 you can purchase more cards by increasing your stake by either 100 or 200%. This will then make the dealer deal you another card faced down. This can be repeated until you have 5 cards in your hand. If your hand has a pair or are equal you are able to split the hand.
---
11. Super Fun 21 Blackjack
This is another different types of blackjack games that is a popular Vegas land variation of blackjack, with the same rules as classic blackjack but with some minor differences.
This game is played with either 1, 2 or 6 card decks. Players can double down after a split and re-split to up to four hands. Like Spanish 21 players can also exercise a "double down rescue", which means the player forfeits half the bet after doubling down.
If the player has six cards which equal less then 20 the player wins, except after doubling down. A player with a hand of five or more cards wins and is paid out at 2:1.
Like the other types a player's blackjack always wins and a blackjack in diamond suit pays at 2:1.
---
Best Places to Play Blackjack Online
So there you have it all different types of blackjack games explained. As mentioned earlier some of these types a either land-based or online specific. We have also taken the time to show you the best casinos to play those online types. Practice makes perfect so make use of the bonuses on offer and get playing!