Bingo is a much-loved hobby that's enjoyed by players from all around the globe but is particularly popular in the UK and US. It's evolved from a land-based game that can still be enjoyed in dedicated clubs today to an online game that comes in many different guises. Players from both sexes and all ages (N.B., over 18's only) can get involved and play for generous cash rewards and bonus prizes, and in some cases, win physical prizes through special games and promotions.
But, if you've never played a game of bingo in your life or are only accustomed to playing in a local club, you're likely to want to know how to play bingo online before you rush off to find a suitable site to join.
The ThumbsUpBonus team knows pretty much everything there is to know about slots, casino, bingo, poker, and sports-betting. So, to help start you off on the right foot, we've created this How to Play Bingo Online Guide, which tells you everything from the basic rules and how to purchase tickets to understanding how prizes are awarded and the different game variations that you can enjoy.
N.B., you can find out more about the various online bingo variants that are offered by the UK's major brands in our guide to The Different Types of Online Bingo Games.
How Does Online Bingo Work?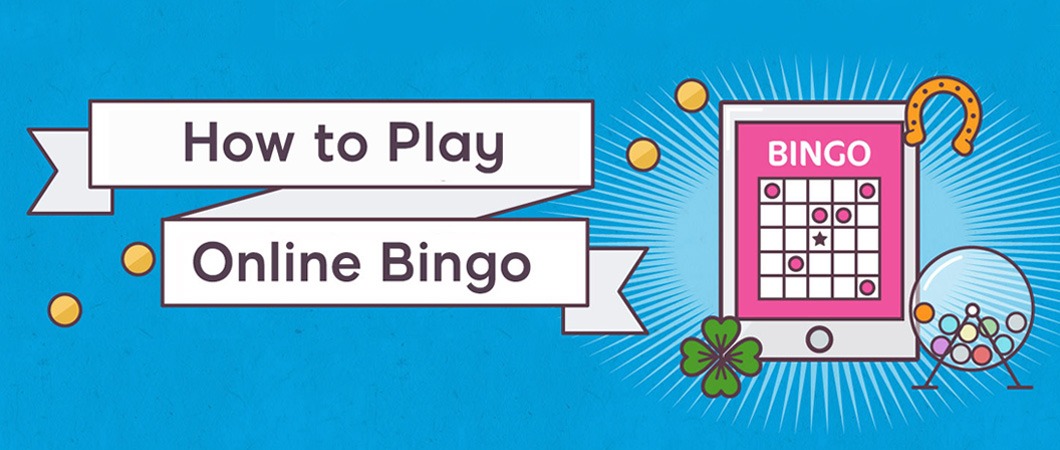 Compared to card games like poker and baccarat, online bingo is a doddle. So, if you're worried about having to learn complex rules, you can rest easy.
Depending on how many balls are used in each game, numbered balls appear along the top of the game screen as they are randomly drawn by the software. If a called number matches a number on your card, it is usually marked off for you automatically.
Some games require you to mark off all of the numbers on a card while others award prizes for players who complete a specified pattern such as an S-shape. There's usually an area on the page which shows you what you need to do to score a prize.
You can buy a single ticket, a strip or multiple strips depending on your preference and budget. And, another great thing about playing online rather than at a local club is that the software automatically arranges your cards for you according to which ones are closest to winning.
How to play bingo online – starting and finishing a game
We've already told you that learning how to play bingo online is easy, and to prove it, this section tells you how to go about buying your cards all the way through to how the game will finish.
You begin by purchasing the required number of cards or strips, and checking the prize amount that's available, and how many prizes are up for grabs, e.g. one line, two lines, and a full house.
When the first number is announced, the game begins in earnest, and as more numbers are marked off your card, the software will let you know how close you are to a win. You'll often see 3TG, 2TG and 1TG on your cards which mean that you only need to mark off another three, two or one numbers respectively.
Any wins that you or other players achieve are automatically announced on-screen, and if there are any prizes left to be won, the game continues. There's no need to shout "House" as the software does everything for you.
Once the main prize has been awarded, the game ends and any prizes due are credited to the relevant players' accounts. You should be aware that if more than one player claims the same prize, the cash/bonus amount is split equally between the winners.
Different game variations
Now that you know the basics of how to play bingo online, it's time for us to give you a brief overview of the different game variants that you're likely to encounter.
90-ball games are the most popular at many sites, and they use 90 numbers. Each ticket consists of nine columns and three rows, and are populated by randomly chosen numbers from 1 to 90.
80-ball games (or speed games as they're often referred to) offer faster game-play. Each ticket uses four columns and four rows and includes numbers from 1 to 90.
75-ball games use a five-by-five grid. Across the top of each column, you'll see the letters, B, I, N, G, and O. Numbers 1 to 15 can appear in Column B; numbers 16 to 30 can appear in Column I; numbers 31 to 45 can appear in Column N; numbers 46 to 60 can appear in Column G, and numbers 61 to 75 can appear in Column O. The centre square is usually left blank and acts as a "free" square, i.e. you don't need to mark it off.
30-ball games use three rows and three columns, giving you just nine numbers to mark off. To win, you must mark off all of the numbers on the same card.
How to see what games are taking place
When you enter the lobby, you'll see a schedule which shows you what games are set in take place in the different rooms. The schedule lets you view the ticket price, the prize pool amount, the minimum and maximum number of tickets you can purchase, and how many players are currently in the room. You usually get the option to filter the schedule so that you can view a single room or a particular time of the day.
At some online bingo sites, you have the option to purchase tickets in advance in case you're worried you'll forget or won't be able to take part at the time that the game is set to play. Pre-buying is a popular feature among players as it helps to ensure that you never need miss out on the juiciest prizes.
How to play bingo online – making the most of your experience
There are several ways that you can make your playing experience more fun as well as potentially more profitable.
For starters, there's the chat facility that lets you converse with other roomies and also gives you the option to ask questions of the chat host. Chat hosts are there to keep everyone in high spirits, help newbies, and run chat games. The rules for the different chat games are usually explained in the chat window a couple of minutes before the game is due to start. The prizes that can be won are usually BBs, which are bingo bonus points that you can collect and redeem for bonus funds.
Side games can also make life at an online bingo site more exciting. You'll see them to the side of the game screen when you're inside a bingo room, and they let you play bingo with slots, scratch cards, instant wins, and casino games at the same time that you're participating in a bingo game. The same selection of side games is typically offered as standalone games. So, if the thought of trying to play more than one game at a time is too daunting a prospect, make sure you check whether there's a separate games lobby.
Learn the Lingo
As part of discovering how to play bingo online, you'll want to grasp the basics of online bingo lingo. Now, when we say "lingo", we don't mean that you'll need a degree in French! What we're talking about are the acronyms that are commonly used in the chat rooms to save players valuable time in typing out long phrases and words.
Almost every site has a section dedicated to new players or at least a Help page where you'll find a list of common online bingo terms. Popular examples that spring to mind include:
WD = Well done
WTG = Way to go
GL = Good luck
DK = Don't know
AFC = Away from computer
BLNG = Better luck next game
There are also alternative names used for the bingo balls which can differ from site-to-site, but many of which are the same as the ones that you'll hear in land-based clubs. For instance, the number 13 is often accompanied by "Unlucky for Some" while the number 30 is referred to as "Dirty Gertie".
How to play bingo online – choosing the right site
So, know you understand how to play bingo online, the fun can begin!
ThumbsUpBonus has researched and reviewed some of the UK's top bingo sites and newly-launched sites so that it's easier to find highly-recommended and trustworthy places that you can enjoy online bingo.
We'll also help you locate the most generous welcome offers for new players. At some sites, you can take advantage of a no-deposit bonus once you've registered as a member, and at others, you can claim a bonus, free spins, or free bingo cards when you make your first qualifying deposit.
Once you've spotted a site that you like the look of, all you need to do is click through to find out more or sign up.