Will Virtual Reality Transform the Online Casino Industry?
Virtual reality headsets seem to be, at the moment, the biggest change that could come along and affect the online casino industry in a major way. Some online casinos have already jumped on this bandwagon and are offering players a fully immersive and interactive gambling experience, unlike anything they have ever experienced before. The current analysis on virtual casinos is that they could hit $520 billion by just 2021 which is an 800% surge! If that doesn't say where the future of online casinos is going then we don't what does!
Virtual reality is simply a computer-generated simulation of a 3D environment where players can interact with their surroundings in a lifelike way. To do this, players need to use special VR equipment which normally includes a VR helmet or fitted gloves with sensors. These headsets are both lightproof and soundproof, and so completely immerse you in the virtual world. This means you can feel as though you are playing at a real life casino but all from the comfort of your own home!
Oculus Rift is currently the most popular headset and this is the headset that is needed to experience fully the VR casino. This headset is perfect for games such as roulette and slots and when wearing the headset you can even spin the wheel yourself and watch the ball spinning! NetEnt even launched their own series of virtual reality slots to be played with your headset. More and more companies are now releasing their own versions of VR headsets, but nothing has outshone the Oculus Rift just quite yet.
It is not only the virtual reality games that are so appealing. These sites look set to be the future of online casinos as they also offer players the chance to interact with other players and join an online community. Players can walk through the detailed casino room, check out other games in play, grab a drink at the bar, or sit in the lounge and strike up a conversation with another VR player. What's also pretty cool is that you can even see the hand gestures of other players and enjoy in-game conversations.
Games You Can Enjoy at Virtual Reality Casinos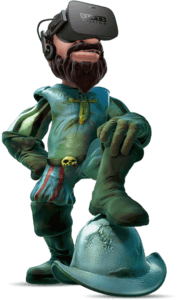 What's fantastic about VR Casinos is that you can enjoy much of the same games that you already do in 2D. The future of online games is focused on delivering high-quality VR experiences. Casino VR Poker is just one of the websites that feature detailed casino rooms, realistic players, and is compatible with Oculus Rift. This site delivers a range of, predominantly, poker games to its players.
The rise of virtual reality means that games such as poker get to evolve even further and bring you closer to the action. When playing VR poker, both the social and fun aspects of live poker games are combined and you can experience all of this at a time that is convenient to you. Players will get a more engaging experience than ever before as you could sit down to watch a final table in the VR stadium and cheer along with the crowd or simply just have more meaningful interactions than simply just a chat box. This then also means that you are less likely to come across online bullying as you are held more accountable for your actions.
While VR poker games are quite small for now as headsets are very expensive, time will allow these games to grow and develop and you will eventually see more tournaments, gaming variations and stakes available. Our guess is that in just a few decades the face of online poker will be completely different and that the vast majority of these games will be played in VR!
Slot games are also incredibly popular already and lots of major gaming developers have already started creating these types of games. More immersive and lifelike slot games are hitting the market which is sure to attract many new players to this platform.
SlotsMillion is the first 3D/ VR online casino that allows you to play for real money, consisting of over 40 games.
So, what do you predict for the future of online gambling? Let us know! Our guess is that over the next few decades we will see an increasing rise in the online casinos adopting VR technology.
How Do VR Casinos Work?
Technological advancements are changing the face of gambling what now feels like daily – VR casinos are now here! The online gambling industry has come a long way in just a few short years to provide players with the latest and best games that feature high-quality graphics, thrilling bonus features and lots of ways to win!
The future of online casinos here is and virtual reality is now too on the rise. Combined with gaming VR is turning the online gambling industry into an immersive and interactive experience that will allow players to feel almost as though they are there. If this upwards trend in VR casinos is anything to go by, players can expect these types of games to take over from the traditional 2D gaming platform.
What Can You Expect from VR Casinos?
VR casinos offer players a platform to enjoy all of their games like they have never done before. You will find yourself in a lifelike experience where you will be immersed in 3D technology and highly-interactive multiplayer game play.
While in recent years we have seen an increase in online casinos offering 3D games, VR casinos really take this to a whole new level and cannot be compared. There have been tremendous advancements in VR casino development and users can enjoy an interactive casino experience and even engage with other players in real time when using a VR headset and compatible VR gaming platform.
When playing at VR casinos, players can expect exciting features that will provide you with outstanding game play. This includes the ability to
Walk through casino game rooms and explore them
Realistic slot machines
3D game tables where you can choose your seat and interact with the live dealer and other players
Enjoy real casino sounds and you can even display hand and body gestures!
Other fascinating experiences you can have when playing at VR casinos include making a pit stop at the bar for a drink and chatting away to other players when you take a seat in the lounge.
What You Need to Play at a VR Casino
When you play at a VR casino, players will need to own a virtual reality headset to access many of the exciting features that these sites provide. The Oculus Rift is currently the most popular virtual reality gaming headset and is already set to take the VR casino world by storm. If you are looking to purchase a VR headset, this is the one that we would definitely recommend! Although VR headsets are not a requirement to play at VR casinos, players will not get to fully experience everything that these casinos have to offer.
With these goggles, players will be given the illusion of space and will feel as though they really are standing there. These goggles will display two images that can be adjusted to your liking to ensure that you enjoy a clear and convincing virtual reality world that has both depth and space.
Where to Play Virtual Reality Casinos
SlotsMillion VR Casino
Here at ThumbsUpBonus, we endorse two fantastic VR casinos, the first of which is SlotsMillion This site is developed by Lucky VR and although you will not find any card games, you will find over 40 slot games to choose from in a realistic game room. Players will need to make their way to the 80th floor of the high-rise to access these games and you can also take in the bright lights of the city view below while having a drink at the bar. This site allows you to play for real money and the Oculus Rift for VR Immersion.
Casino VR Poker
The second site ThumbsUpBonus recommend is Casino VR Poker. This site also runs best Oculus Rift and offers players a detailed interface and realistic full body players. On arrival, players will receive a stack of free chips which you can then buy more of through the in-app purchases. As this is an entertainment only casino, players cannot cash their chips back in.